COVID-19: Not Too Late to Get Affairs in Order
Most of us put off estate planning for two reasons: we are too busy working; and, there is plenty of time to do it. Now that we are not working and we have plenty of time to give this subject matter our serious consideration, now is the time to do it.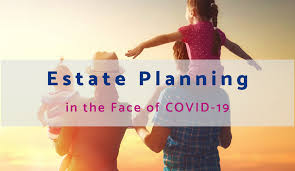 The estate planning work can be done without leaving your home. We, as your lawyers, continue to work remotely and are available to you via telephone, including Facetime, email, or Zoom videoconferencing to discuss your particular situation and issues with you. The documents can be drafted and emailed to you to review and the signing of the documents can be flexible either at your home or at another location with proper practices of social distancing, and the use of masks and gloves.
We are offering three estate planning basic documents, a simple will (with three or less beneficiaries), a durable power of attorney, and a living will/healthcare surrogate at the flat rate of $350 for a single person, and $550 for a couple.
The validity of your estate documents is tested only when they are put to use, i.e., upon incapacity or death. Therefore, do not leave it to chance through some forms you download from the Internet which may or may not be legally binding. Let us help you obtain that peace of mind that is so needed during this uncertain time.