Elder Law
Asset Protection
Protect what you've worked hard for! Estate planning and asset protection is exactly that: creation of a plan and documentation to ensure that your assets are protected in the event of incapacity or lawsuits as well as stating who will receive what after you pass away.
COVID-19: Not Too Late to Get Affairs in Order
There's no better time than a global pandemic to get one's affairs in order. Simple things like Advanced Healthcare Directives can help ensure that you make the decisions, and appoint someone you trust, to carry out those important medical decisions if you should become incapacitated. Do this now: waiting may mean that you are no longer in control, isolated and unable to make critical choices in your medical care. Same thing with finances: waiting may mean that your assets, credit rating and personal belongings are not being preserved for either you or your loved ones if you should pass away unexpectedly.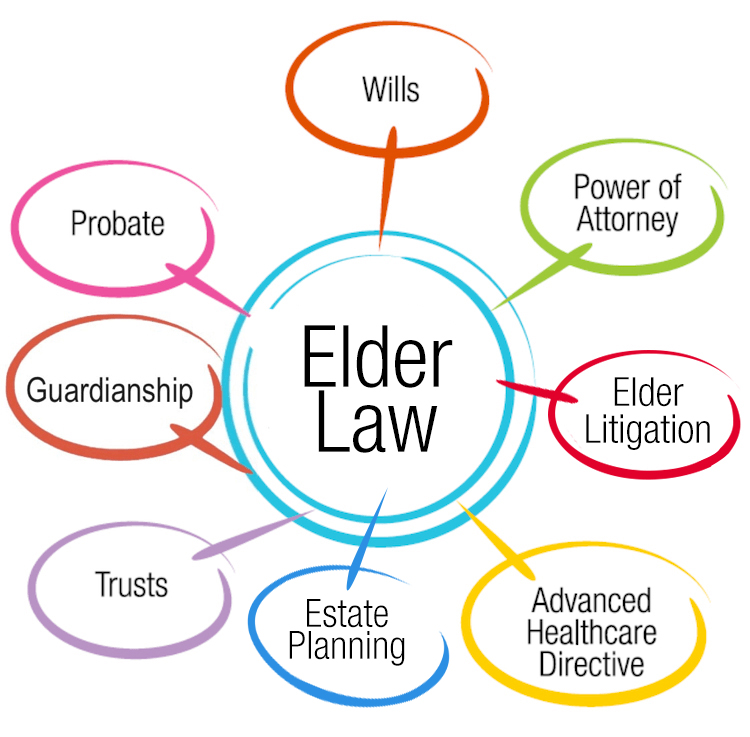 Breach of Fiduciary Duty
Estate plans and powers of attorney require naming of someone, whether family or a professional, to act in the best interest of an estate or person. This person with that responsibility is called a "fiduciary" and has a fiduciary duty to ensure that he or she acts with the utmost care with regard to all actions taken on behalf of the estate, trust, or individual. When someone agrees to act as a fiduciary, they are obligated to act with expertise and integrity. The law strictly forbids a fiduciary from acting in a manner contrary to the best interests of the trust, person, or estate.
In particular, a fiduciary is prohibited from exercising their powers in a way that would benefit their self-interest. Sometimes, this occurs by accident and sometimes on purpose. Trustees can mishandle funds, and people acting with a power of attorney can make mistakes. We have seen that happen with family members taking advantage of their elder's financial position, and even by professional well known entities which rely on the fee income generated by the elder's financial assets. If you believe this has happened to you or a relative, we can help. We have over 25 years experience litigating various consumer and elder actions, including breach of fiduciary actions.
A fiduciary can be a large financial institution or brokerage firm that serves as a trustee in the trust that your mother or father has set up for you. Large financial institutions are definitely not immune from negligence or misconduct in the performance of their fiduciary duties. In fact, the larger the institution, the more difficult for you to communicate with them about your rights and entitlement as beneficiary. Most recently, we sued Raymond James Trust, N.A., compelling them to distribute trust assets and to render trust accounting. We obtained the desired results for our client when other law firms did not want to take on such a financial conglomerate.
My elderly mother was supposed to receive trust assets but the trustee, a well-known, big, powerful financial corporation was doing everything it can to deny, and delay the distribution, knowing full well that my mother was under hospice care. I consulted with two different lawyers before being referred to Ha Dao, Esq., who immediately filed suit against the corporation, demanding accountability. Within weeks, we were able to have a hearing and the case resolved in a matter of a few months. I don't believe we could get the result we did, but for Ha's fierce but tenacious litigation strategy. She was always accessible and prompt in responding to our questions, as well as being thorough and patient in her explanations of the complex issues involving in my mother's case. I am glad I have found a true defender of my mother's rights.
Fatimah and Bernard.
Estate Planning
Estate planning means drafting a plan in advance and naming whom you want to make decisions for you in case you become incapacitated as well as stating who will receive the things you own after you pass away. A true estate plan is multi-faceted. Multiple areas will be discussed including disposition of your estate, asset protection, asset management and division of assets. Health care decision making, the possibility of guardianships and elder care issue should be a part of the discussion. Finally, no estate plan is complete without tax and Medicare/Medicaid considerations. Basically, it should factor in any needs that you can anticipate as you age and allow you to make the decisions as to medical care and your assets while you are capable of doing so.
Probate
Sometimes avoiding probate isn't possible or it may be necessary to liquidate claims or resolve legal disputes. Probate is a court-supervised process of authenticating a will, locating and determining the value of the deceased person's assets, paying their final bills and taxes, and distributing the remainder of the estate to the named beneficiaries. A similar process occurs when there is no will, although state law will determine the rightful heirs.
Guardianships
In some cases, a guardianship may be necessary - to have someone act on behalf of the elderly individual. A guardianship is a legal proceeding in which a court determines whether or not a person is capable of making reasonable decisions regarding their finances and general welfare. If the court concludes that the elder is indeed unable to make such decisions, a guardian can be appointed to make decisions on behalf of the individual, and/or their property. This includes accounting of assets and preservation of those assets to ensure your loved one is well taken of for their remaining years.
After quite a bit of research we hired Attorney Ha Thu Dao to help us with the guardianship of my brother. Our situation was probably more complicated than most, but Ha was extremely knowledgeable and professional. She stayed on top of everything and was able to get it all resolved timely. The thing I was most impressed with was not just her professionalism, but that she cared, and that she kept us up to date and did so timely. I highly recommend Ha. Hiring her was the best thing we did to be able to help my brother.
Linda, Tampa Bay
I found Ha Dao extremely approachable, genuinely empathetic and holding a great sense of humor. When you get her in a court room note that she is polished, extremely well prepared, but most importantly a fighter! Very quick on her feet with rebuttals and not at all intimidated. She held her own against the four attorneys that used nasty tricks to have the judge rule against me. She knocked everyone one of them down. Her arguments on my behalf were awesome and the end result was my being appointed guardian. I cannot say enough about how appreciated Ha Dao is. She surprised me with an aggressive commitment to fight. Not just go through the motions, but actually fight for me.
William, St. Pete
Planning for Minor Children
If you have children who are under the age of eighteen, or have special needs, certain priorities should be a part of your estate plan. You may need to make decisions as to who would take care of your children if you became incapacitated or were to pass away unexpectedly. Most parents would like to make this decision themselves, rather than leave it to the courts. Having a comprehensive plan in place can ensure that your wishes are met and the right people are brought in to care for your children and that your financial resources are best utilized for this.
Powers of Attorney and Healthcare Surrogate
We help our clients plan their futures and for the challenges that aging and incapacity can bring. A Durable Power of Attorney gives an individual the ability to make decisions in the case you become incapacitated and cannot handle matters yourself. A Healthcare Power of Attorney allows you to appoint a health care surrogate to make decisions about your healthcare if you become unable to do so.
Medicaid Planning
Medicaid is a joint federal and state funded program that provides free or low-cost medication and medical services to more than 6 million low income seniors every year. Licensed elder law attorney Ha Dao can help plan your Medicaid Eligibility and address Medicaid look-back provisions ahead of time to protect your assets from nursing home costs and to make you eligible for Home Care Aid Medicaid as soon as possible.
Litigation of Elder Issues
All of our attorneys have decades of litigation experience in many different forums. That is one of the benefits of hiring our firm. Sure, we draft the basic POA's, Advanced Directives, Wills and even Trusts, but really, our strong suit is litigation. Litigation involving seniors is a fast growing area. It can involves things like pressure on an elder to sign a quit claim deed, overreaching contracts by nursing home or ALF contracts and disputes of all kinds. Many disputes are unique to the elder law field such as: defending guardianships, disputes over powers of attorney, disputes over a trust or will, claims of undue influence, lack of capacity, accounting or recoupment of assets, etc.
Ha Thu Dao has been invaluable to me as a top notch litigator to refer cases to. I am not a litigator. I have a large client base and frequently receive calls from clients and non-clients who require the skills and expertise of a litigator. I am able to refer those cases to Ha Thu Dao with full confidence that the feedback I will receive from the clients will be positive. It is important to me personally and to my professional reputation to refer clients exclusively to attorneys that I feel will handle these referrals well. I appreciate that Ha Thu Dao consistently provides a combination of excellent customer service and professional skill.
Diana Mangsen, Esq.
I've had the opportunity to utilize Ha Thu Dao's legal expertise both professionally for my clients and personally for my business over the past several years that I've known her. With every interaction I've had with Ms. Thu Dao, I have found her to be exceptionally prepared, very thorough in her due diligence and incredibly knowledgeable of the situation and the case. The research she performs beforehand is in depth and accurate and the way she presents her findings is above reproach. She's also very responsive with being available to talk when needed or replying to emails in a timely manner. I would not hesitate to refer Ms. Thu Dao to my clients or their families for any future needs or retain her services again for my agency if need be.
Lory Smeltzer, Advanced Senior Solutions, Inc.
Ms. Dao is clearly the best attorney I have ever been involved with. I cannot express how grateful we are. Her knowledge was second to none, her Professionalism, Courtesy and honesty was outstanding. I can only sing praises for her work, easy to communicate with, very thorough and was able to navigate a very difficult estate matter. She's fast efficient and exceeded our expectations. SHE IS THE BEST I'VE EVER SEEN. TRUST ME YOU CAN TRUST HER TO RESOLVE YOUR DIFFICULT MATTER.
Client Fatimah