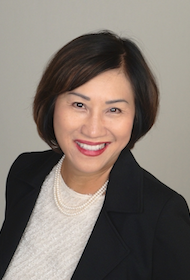 Ha Thu Dao
Why Do I Do It?
Q. What is it you enjoy most about being a lawyer?
A. Because of my order of birth, first of ten children, I was born with a fierce but natural instinct of wanting to protect "my people" from harm and defending their rights and interest from those who tread on them. Being a lawyer gives me the privilege and satisfaction from serving as a protector and defender of my clients.
Q. What Do You Like Solving Problems So Much?
A. My mother asked whenever I came crying to her about some problems that I had, "How bad can it be? Are you going to die from this experience?" As a youngster, I found her reaction to be odd and uncompassionate. Growing up, I came to realize the wisdom inherent in her questions. It is true that unless the doctor gave me a diagnosis of a terminal illness with a limited amount of time to live, there is something that can be done about my problem, whatever it is. In the face of adversity, I fight my initial reaction to worry and fret, as I know it tends to quickly lead to retreat and surrender. Though I am not immune from feeling down about losing a hearing on behalf of a client, I don't feel defeated. I feel challenged in asking myself the same questions my mother asked me, how bad can it be? What else is there that I can do about the situation?
Q. When You're Not Busy Being a Lawyer, What Do You Do?
A. I do what anyone who is the oldest of ten children with both of my parents being in their eighties, and an extended family of aunts and uncles, would do. I am a typical first generation Asian American with lots of family affairs and traditions to tend to.
Q. What is your favorite activity?
A. Reading magazines, especially those with lots of beautiful pictures, which I only get to do once in awhile waiting for my turn with the hairdresser; I find it most relaxing.
Q. What is my favorite TV show?
A. Any show about law and lawyering, especially the Hollywood version; their arguments are full of passion, articulate and convincing. Bad people confess spontaneously on the witness stand. Every legal issue, big or small, gets solved in a fifty-minute span of time!
Q. Family life.
A. My husband of forty-two years and I live in a hundred-year-old house with a massive garden and a koi pond. Our two sons live in Seattle and San Francisco which gives us legit reasons to travel out West every year.
Q. How do I do it?
A. Tenacity helps me out a lot. When I was a brand new lawyer, I was making so many motions in one of my trials and the judge kept denying them, one after another. At some point, she appeared exasperated, asking me on the record, "If I grant your motion, will you stop making motions?" She might have been sarcastic but I just didn't know then, I replied, "It depends, your Honor. It is not my objective to aggravate the judges; but I am not apologetic about making arguments I believe in.
I am not easily intimidated. I love being in the company of smart lawyers and judges; they inspire me to be better at what I do, but I am not impressed by any label, advertisement, or tactics of intimidation.
I am genuine. Being an immigrant from Vietnam, I understand the fear of being displaced from one's home, losing everything you've worked hard for, navigating in a system which is completely foreign to you, or fighting a force of oppression that others think only exists in your head.
Biography
While the adage of "Jack of all trades, master of none," is intended to be derogatory, I've taken pride in learning a new area of law, and mastering it, every few years. The different practices I have been involved in, from criminal to civil, from trial work to appellate advocacy, from bankruptcy to consumer law and elder law; are all interconnected. By appearing before the same judge all times, like in probate and guardianship, as well as a panel of judges, like the court of appeals and the Florida Supreme Court, gives me exposure to different audiences and judicial temperament. It allows me to see different angles of the same legal issue and be a versatile advocate for my client's cause.
I have been admitted to the practice of law since 1992. I am licensed in Florida, Oregon and Washington. My work history includes five years as a prosecutor for the City of Des Moines, and a short stint as a pro tem judge for the City of SeaTac, in the State of Washington. I served for nine years as an Assistant Attorney General for the State of Florida, in the Criminal Appeals, Eminent Domain, and Consumer Protection Divisions. I had my own law practice concentrating on litigation and consumer advocacy. In addition to being a full-time associate at Christie D. Arkovich, P.A., I serve as of-counsel for Deeb Elder Law, P.A., located in Saint Petersburg.
I had the privilege of arguing before the Florida Supreme Court twice and prevailed both times. I am responsible for numerous written opinions in the Second District Court of Appeals on constitutional and evidentiary issues. I participated in amicus briefing in the Washington Supreme Court on mortgage foreclosure issues that were cutting edge during the recession of 2008. My practice in the U.S. District Court, Western District of Washington, resulted in an order assessing sanctions against OneWest Bank for discovery violations in one case, and a trial judgment granting the consumer emotional distress damages against the mortgage servicing giant, Cenlar, in another case.
Education
J.D., Seattle University, Washington
B.A., University of Washington
Jurisdictions Admitted to Practice Florida Supreme Court, U.S. District Court and Bankruptcy Court in Middle District and Southern District of Florida, Second District Court of Appeal, Florida
Washington Supreme Court, U.S. District Court and Bankruptcy Court in the Western District of Washington, and the Federal Ninth Circuit Court of Appeals
Oregon Supreme Court

Professional & Bar Association Memberships
National Academy of Elder Law Attorneys (NAELA)
Academy of Florida Elder Law Attorneys (AFELA)
Guardian Association of Pinellas County
Pinellas County Bar Association
Clearwater Bar Association
National Association of Consumer Advocates