Podcast
"How to Save Money On Your Student Loans"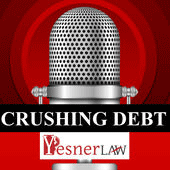 Options to Reduce Student Loan Debt
Is Your Loan Balance Going ⇧ – Despite Regular Payments
How to Get Results Outside of Bankruptcy
Leverage Consumer Law Violations (i.e. cell phone calls)
Income Based/Debt Forgiveness Plans are NOT "one size fits all"
How to Cure a Default and When You Should.
Our goal is to reduce our clients' student loan payments to a reasonable and sustainable level with an end in sight.